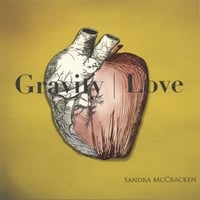 I've mentioned how much I like Sandra McCracken before when
I reviewed her album The Builder and the Architect.
That album was a detour from her usual folk/pop style and I loved it. Now, less than a year later, comes her newest "regular" album,
Gravity | Love.
Simply put, this is one of the best new albums of the year. McCracken's writing is at her usual high standards, the singing and playing are great and the production is well done without being too slick. Every time this album comes around in the CD player in my car I enjoy it. A lot.
The opener "Head over Heel" is a joyous reflection on love which has a catchy melody and great singing and playing. "Broken Cup" is a song about materialism which manages to make it's point without being preachy or holier-than-thou. There are a number of great songs on this album – there isn't a stinker in the bunch – but my favorite has to be "Goodbye George" a wonderful tribute to George Harrison which uses a number of lines from George's songs and some musical quotes as well. The first time I heard it I immediately played it again. Great stuff. While I still have a great big soft spot in my heart for
Builder and Architect
, this may be Sandra's best album yet and that's really saying something.
So do yourself a favor and surf on over to
www.sandramccracken.com
or to
www.myspce.com/sandramccracken
and check it out.